Multiplex analysis of inflammatory proteins:
A comparative study across multiple
platforms
White Paper Highlights:
The study compares the performance of 3 established multiplex platforms for measuring cytokines, based on the dynamic range of the assays, precision, dilution series in buffer, and linearity.
The Olink platform demonstrates unmatched specificity in multiplex format, with wide dynamic range, delivering high quality, and reproducible data.
The outcome of the study shows that the Olink inflammation assay library serves as a focused, yet flexible solution for analysis of cytokines and other inflammation-related proteins.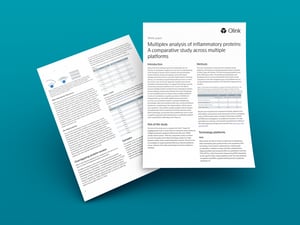 Learn more about Proximity Extension Assay (PEA) technology
Download White Paper now!