Advancing precision medicine
Webinar title: "Advancing precision medicine: Prognostic biomarkers for pediatric Crohn's disease"
In this webinar, Dr. Andres Hurtado-Lorenzo presents findings from a Crohn's & Colitis Foundation study to identify prognostic and predictive protein biomarkers to monitor development of pediatric Crohn's disease, and predict response to more aggressive forms of therapy.
Watch the webinar to learn more about:
Their use of data from multiple omics, such as RNA-seq and protein data, to develop a high performance, prognostic protein signature for Crohn's complications.

How they used Olink and machine learning to develop a prognostic protein panel to predict development of fibrosis with an accuracy of 84%, and a 3-protein signature that predicts therapy response with an accuracy of 90%.

Development of a custom panel which as been further tested and verified as an effective tool for future management of Crohn's disease.
Speaker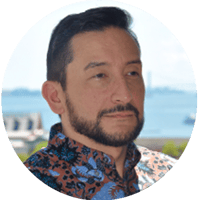 Dr. Andres Hurtado-Lorenzo
VP Translational Research at the Crohn's and Colitis Foundation