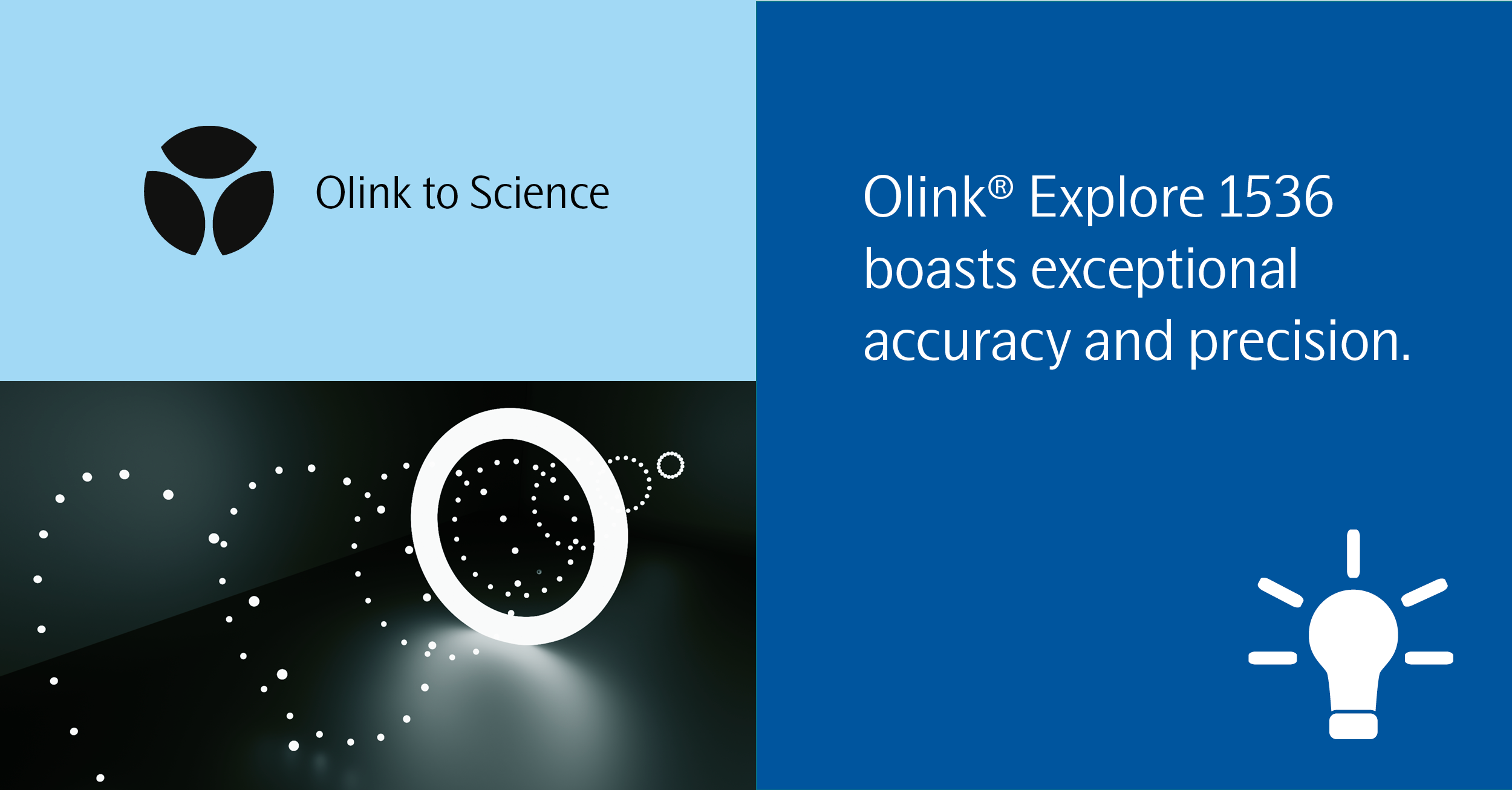 In our quest to realize the goal of precision medicine, it is crucial to develop accurate and precise proteomics platforms to measure biological variation in disease response in human populations. Antibody-based assay platforms allow the simultaneous measurement of multiple proteins, paving the way for proteomics analyses that result in meaningful insights into disease biology.
Our latest case study aimed to verify the quality of Olink PEA technology by comparing the performance of our Target 48 Cytokine panel to similar products used in protein biomarker research using other technologies. The focus of this blog post, however, will be on a subsequent analysis comparing Target 48 to our broadest screening panel Olink Explore 1536.
There are a couple of key differences between the two products. Olink Explore 1536 measures the relative abundance of proteins, presented as NPX values. Olink Target 48 measures absolute protein concentration as pg/mL. Another key difference is the readout of both methods: Olink Explore 1536 relies on NGS whereas Target 48 relies on qPCR. So how do the two products compare? Do Olink Explore NPX values generated from NGS correlate well with absolute protein concentration generated from qPCR?
In collaboration with Massachusetts General Hospital (MGH), Olink Explore 1536 and Target 48 were used to analyze 200 metastatic melanoma patients undergoing checkpoint immune blockade treatment. Plasma samples were analyzed just before treatment, at 6 weeks, and 6 months into treatment. While the initial analysis was done using Olink Explore, the study also sought to establish an optimal threshold for several of the key markers identified. This is where Target 48 Cytokine and its ability to measure absolute protein concentration came in.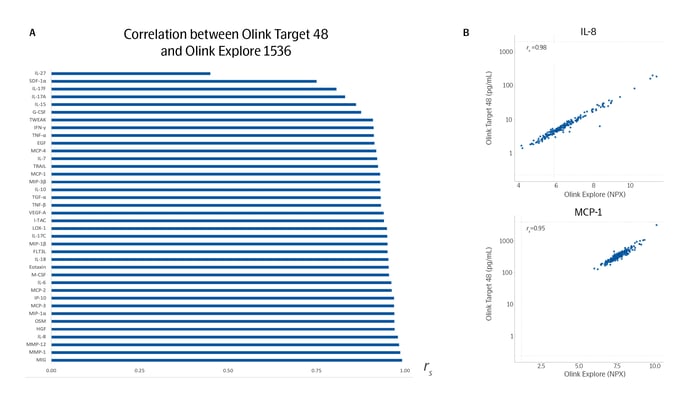 Figure: Graph showing the Spearman coefficients for the 38 overlapping proteins between Olink Explore 1536 and Olink Target 48. The two scatter plots focus on the correlation between relative (NPX) and absolute (pg/mL) protein concentrations of two proteins, IL-8 and MCP-1.
Results revealed a strong correlation (rs of 0.5-0.99, median 0.95) between the 38 overlapping cytokines in Explore and T48, the majority of these (84%) exhibiting Spearman coefficients in the range of 0.9 to 0.99 (See Figure). NPX values for cytokines that varied significantly over time in the melanoma cohort were also consistent with the fold-change estimates using absolute protein quantification. Finally, these results were not affected by the readout platform used, whether that be NGS or qPCR. What this means for our customers is that as our product range continues to evolve, data obtained from our various products are comparable, reducing the need for sample reruns.
This is yet another reason to trust Olink to provide the methods for you to succeed in your proteomics research.