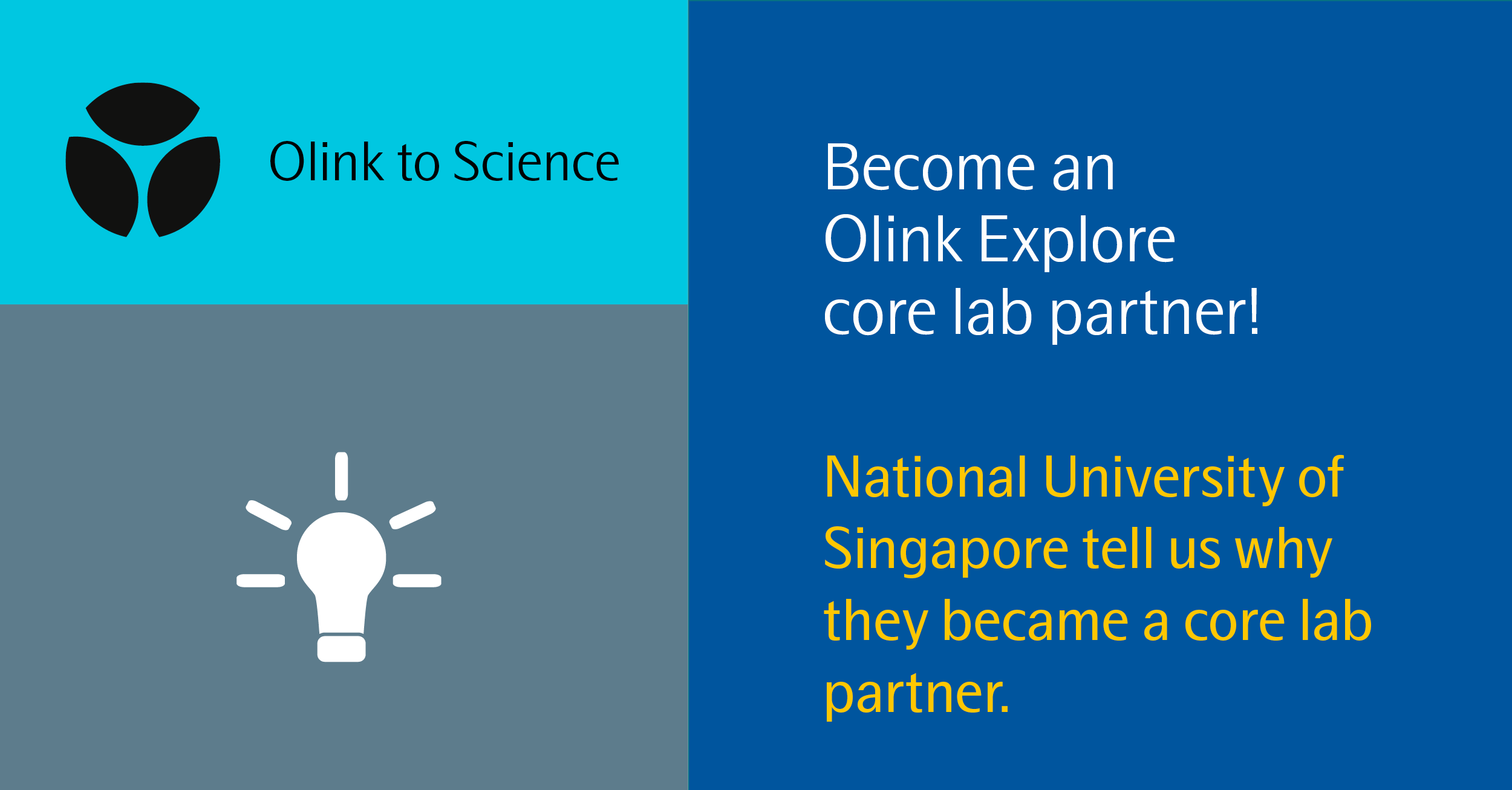 The National University of Singapore (NUS) Protein Biomarker Discovery Core Facility is one of the newest additions to the Olink core lab family. Established this year, the NUS Protein Biomarker Discovery Core Facility will offer full service of all Olink Target and Focus products, as well as Olink Explore. The core lab will focus on serving customers in Singapore and the Asia-Pacific region, where the demand for protein biomarker research has shot up in recent years. Lai Lai Yap, a senior laboratory manager in the NUS, describes their experience in becoming a certified core facility.
Why did you decide to become an Olink core lab?
We have heard many positive comments and feedback on the Olink technology and there is an increasing number of users who are interested to use the Olink platform for protein biomarker discovery in NUS and in Singapore. Therefore, in 2019 we decided to begin training to become a core lab in Target 96 protein panels, and once Explore was released, we felt that this platform would greatly facilitate our users, so plan to become certified in this platform as well.
If you were already an Olink core lab for another product, what was it that helped you decide to become an Olink Explore provider?
There is a growing interest and demand amongst our customers to run more large-scale, high-throughput protein biomarker studies, which the Explore platform is perfect for.
How would you describe the overall training and transition process in becoming an Olink core lab?
The training instructions, videos, and notes provided are very detailed and comprehensive and it also helps greatly that we have a local Olink representative (Wen Jing) who has helped and advised us. The online training was very useful and was conducted in a very efficient manner. The Olink trainers are also very accommodating and are very clear in their explanations.
Were there any difficulties in the transition process? If so, how did your Olink representative help your lab overcome these difficulties?
As is always the case with new projects, it was difficult to prepare the facility in terms of buying and installing the instruments and knowing how to order kits, etc. But Wen Jing provided a lot of help and advice during the entire process in terms of the facility and instrument setup as well as the purchase of Olink kits.
Do you see a growing demand among your customers to do proteogenomics and/or proteomics projects?
Yes, both in NUS and in Singapore.
How easy do you find the data analysis tools and overall workflow for the Olink products you provide?
The data analysis tools and NPX software are quite easy to use and the provided manuals and guides provide a lot of information. The overall workflow from purchasing the Olink kits to the delivery of the kits is very efficient and easy. The Olink workflow is smooth and is aided by detailed protocols.
What kinds of projects are being done using Olink technology in your lab?
The current projects we are working on include aging, muscle atrophy, and cardiovascular diseases. We will also be running more large-scale health projects in the near future once we become certified in Explore.
If you and your lab are considering becoming an Explore core lab, reach out to our support team: support@olink.com