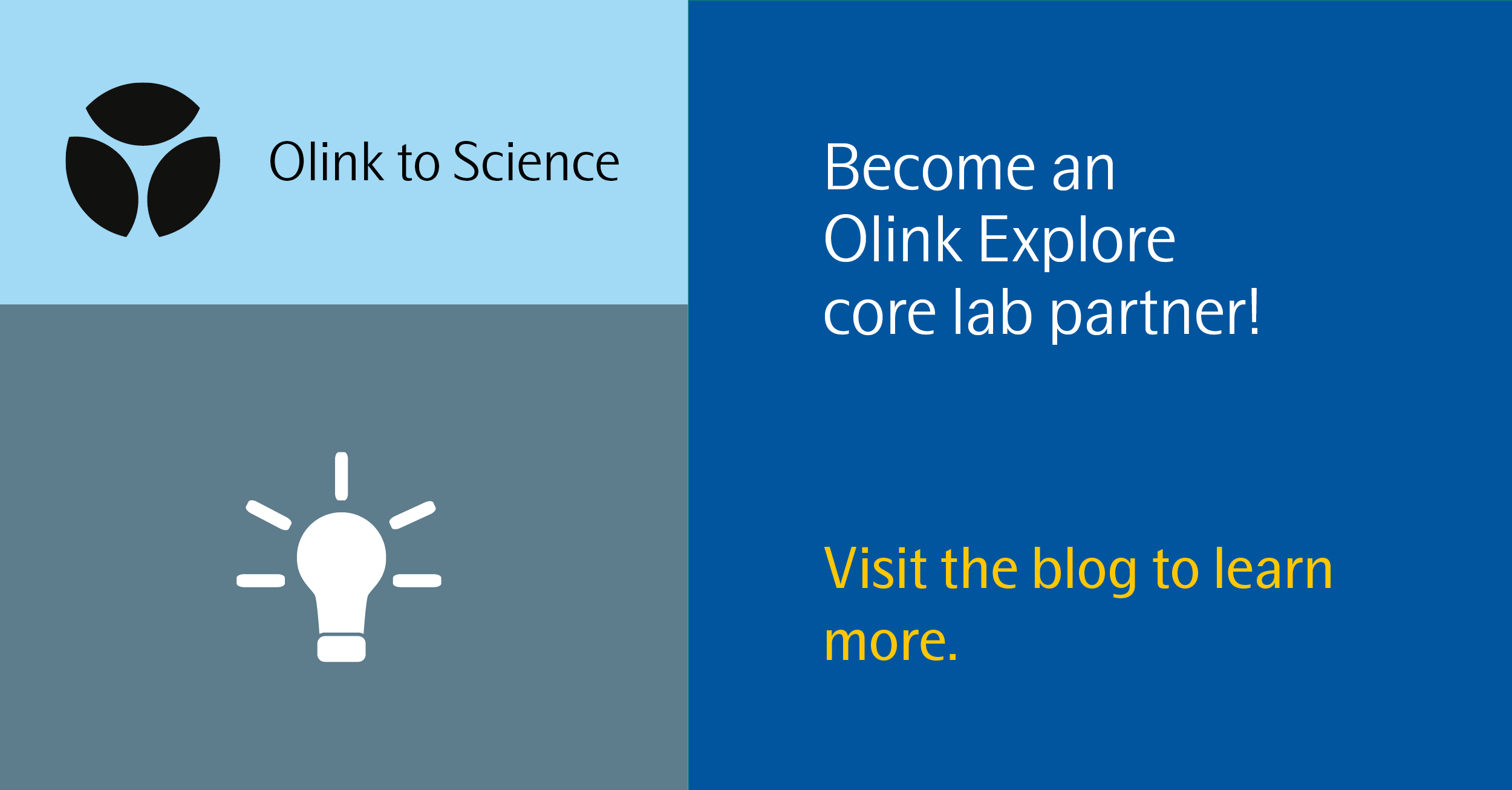 Olink's core mission is 'accelerating proteomics together' with the scientific community. From the start, Olink has helped and supported countless researchers to carry out and advance their proteomics research using our PEA-based products and our team's expertise.
The broader Olink team includes over 35 external core labs who have been trained on our qPCR readout platform. Since the launch of Olink Explore as a kit in August 2020, Olink's Field Application Scientist (FAS) team led by Narges Rashidi, Senior Director of Application Sciences Americas, and Philippa Pettingill, Director of Application Sciences EMEA, have trained a further 6 core labs on this NGS readout platform. This month, Olink to Science presents a series of interviews with the key players involved in the core lab training process, including Philippa from our FAS team, as well as two core labs: The Uppsala SciLifeLab (our first European Explore core lab) and NUS in Singapore (who are in the last stages of certification to become a Target-96 core lab).
The blog series begins with an introduction to our FAS team and a short overview of the Explore 1536 workflow and core lab training process.
Olink's FAS team comprises 17 Field Application Scientists. They provide technical and application support to ensure successful training of Olink core labs that guarantee high customer satisfaction. Their expertise covers areas including experimental design, troubleshooting related to user technical skill, instrument operation, laboratory layout, and data analysis. They aim to keep the core lab informed on new advancements and to ensure their continued quality and success through ongoing support, as well as helping as and when the core lab needs it. This includes an extensive training program.
Olink Proteomics has developed a training package to ensure the highest possible quality of data output for partners and customers running Olink analysis. The training package is composed of both theoretical and practical components and results in a mandatory certification necessary for all laboratories that will analyze samples with Olink kits. The certification ensures that data received from external labs meet the high-quality standards that Olink is known for. Due to the COVID-pandemic, much of the training for Explore has become virtual, but the practical components are still performed in-person to help core labs to master the Explore workflow.
Olink Explore 1536 has been optimized to be semi-automated to reduce the hands-on time required to carry out the lab protocol, as well as reduce the volume of customer sample needed to perform analysis. As a result, it requires 6 instruments to run, some of which may already be established in a typical core lab facility. The Dragonfly, Mosquito (SPT Labtech), and epmotion (Eppendorf) instruments are used for automated pipetting of reagents and samples. ProFlex PCR machines allow high-throughput PCR of DNA products, which then undergo quality control using the Bioanalyzer platform. DNA libraries are finally sequenced on one of Illumina's NGS instruments.
While the training process and overall workflow may seem daunting, a member of the Olink FAS team is assigned to every core lab to help them throughout the certification process, and provide ongoing advice and support throughout the core lab's life cycle. What better way to demonstrate this than from Philippa Pettingill herself? Check back next week when we interview Philippa and get her take on what it is like to train an Explore core lab.
If you and your lab are considering becoming an Olink Explore core lab, reach out to our support team: support@olink.com.