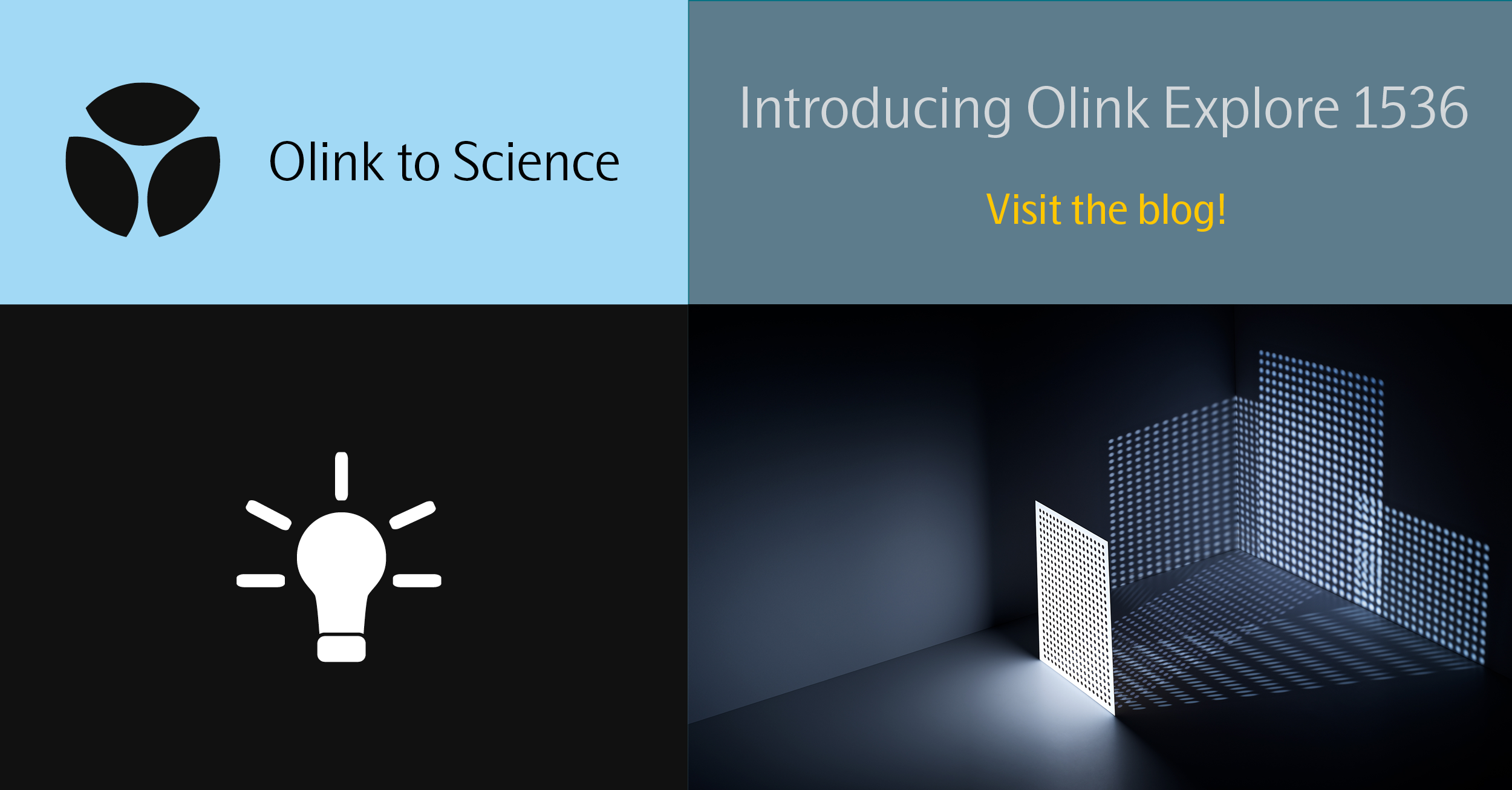 Advances in genomics have opened the doors to large-scale, high-throughput acquisition of biological data. As a result, our understanding of biology has increased substantially, so much so that this phase in history has been termed the 'DNA revolution'. But what about the workhorses of the body? What more could our proteome reveal? Just as genomics underwent a revolution, proteomics is having its own revolution right now. Introducing Olink Explore 1536, a product created for the screening and discovery of novel protein biomarkers.
Olink Explore is our flagship, high-throughput PEA platform: it measures around 1500 proteins in less than 3 microliters of sample in 88 samples simultaneously. This is made possible by combining Olink's patented PEA technology with Next Generation Sequencing (NGS). Much like our other products, which use qPCR as a readout of DNA data, NGS data is used to 'count' PEA amplicons and determine the relative concentration of proteins in a sample. By combining DNA 'barcodes' representing the protein assay ID with a third representing a sample ID, the entire library can be measured in parallel (in a 4 x 384-plex format), generating over 130000 data points in less than 36 hours.
Olink Explore 1536 is also easy to run; the protocol is semi-automated, where robots handle pipetting and only plate transfer and sealing is done manually. By minimising the number of manual pipetting steps, experiment repeatability and reproducibility is enhanced. As with other Olink products, Olink Explore analysis data is thoroughly quality-controlled and normalized using internal controls to reduce intra- and inter-assay variability and assure robust and actionable results.
The Explore library panels focus on inflammation, oncology, cardiometabolic and neurology proteins. Library content is based on target selection of low-abundant inflammation proteins, actively secreted proteins, organ-specific proteins leaked into circulation, drug targets (established and from ongoing clinical trials) and proteins detected in blood.
Olink Explore creates actionable protein profiles that may provide even more insights into real-time human biology and facilitate the development of more effective therapies. We envision Olink Explore for use in the drug development and clinical research space, as well as large-scale open hypothesis studies focusing on the low-abundant plasma proteome.
Originally launched as a fee-for-service platform last summer, Olink Explore is now also available as kits that can be run in suitably equipped and trained external labs. To celebrate this launch, March will cover everything Explore, from what makes it different to our other products and the new proteins that are included in Explore, to Olink Explore 1536 in action, where the product has been used in one of the largest COVID study cohorts to date. How could Olink Explore accelerate your research?