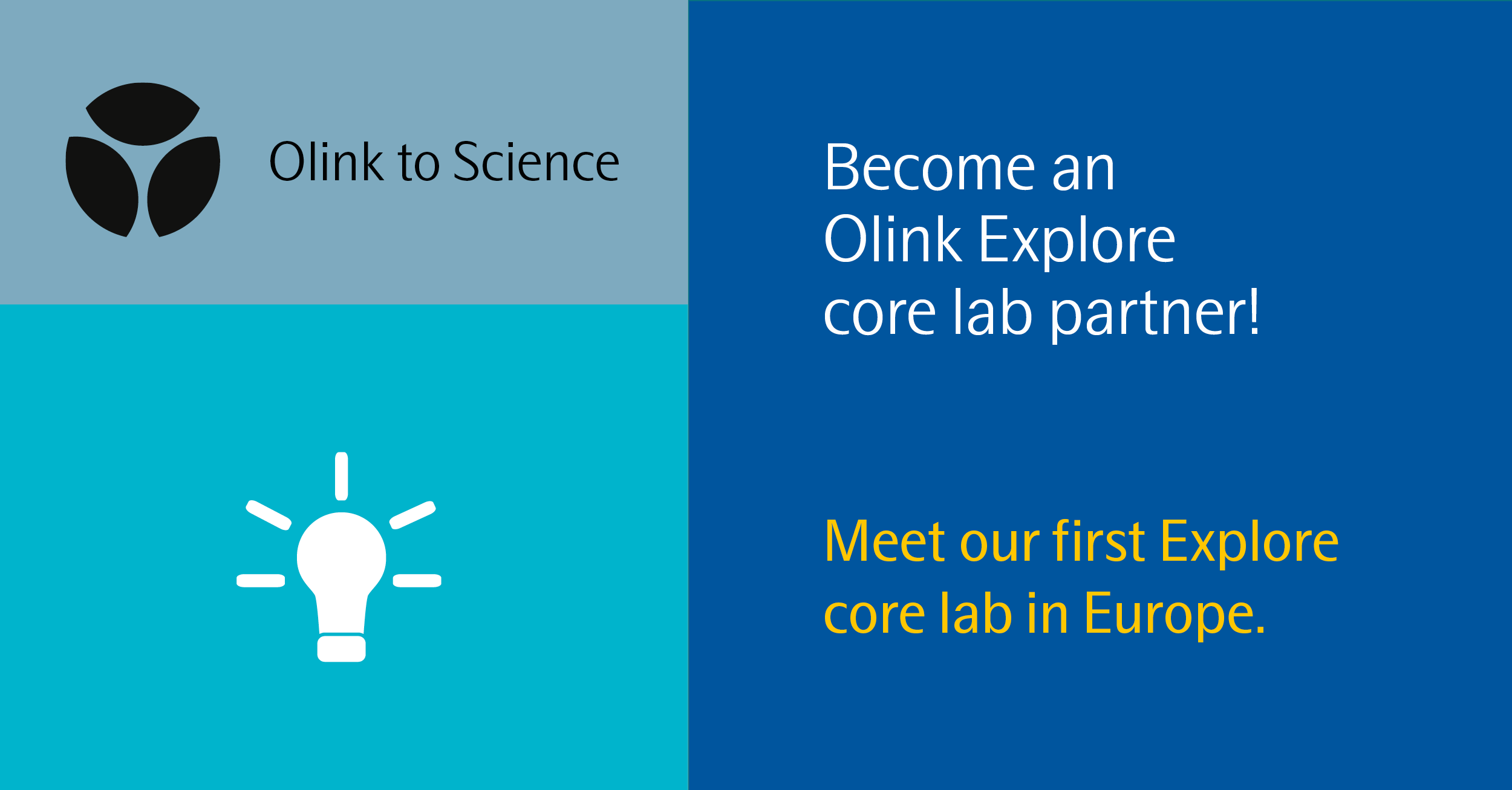 Affinity Proteomics Uppsala (APU) has been an Olink core lab since 2012, offering a full analysis service for all Olink Target and Focus products. This year, they collaborated with the SciLifeLab National Genomics Infrastructure (NGI) to become an Explore core lab, and officially began offering Olink Explore to customers on April 1 2021. In this interview, Mikael Åberg of the APU discusses the facility's experience in becoming certified in not one, but two Olink platforms.
Why did you decide to become an Olink core lab?
Affinity Proteomics in Uppsala is a member of Science for Life Laboratory (SciLifeLab) in Sweden. Professor Agneta Siegbahn led the initiative to start a core facility in 2012, at that time under the name Clinical Biomarkers Facility, and it was actually the first lab in the world to offer such a service to customers, since Olink did not have its own analysis service at the time. The timing was serendipitous with Olink launching a new, state-of-the-art proteomics product, SciLifeLab providing opportunities for building new core facilities, and a group of dedicated Uppsala-based researchers with a keen interest in supporting cutting-edge research on protein biomarkers. Today, APU has broadened its services, but Olink panels still constitute a major part of what we do in our daily work. Two of the research engineers who analyzed the first Target 96 plates in 2012 are still with us today, so we have gathered much experience in these products over the years.
If you were already an Olink core lab for another product, what was it that helped you decide to become an Olink Explore provider?
For many years we have worked alongside the SciLifeLab NGI node in Uppsala, which is one of the largest technical platforms at SciLifeLab to provide services for most next generation sequencing (NGS) applications as well as genotyping. With the launch of the Explore platform, we realized that we would need each other's expertise to offer this service to our customers. The collaboration is a true success story, together we were able to secure funding from the Swedish Research Council and SciLifeLab to purchase the necessary equipment, set up the sequencing workflow within NGI's existing genomics infrastructure, and build a dedicated lab that we call the "SciLifeLab Explore Lab". The cross-disciplinary combined expertise from our two facilities was a key factor behind us being able to set up the lab in record time so that we could start welcoming projects for the platform from April 1st.
How would you describe the overall training and transition process in becoming an Olink core lab, and how easy was it to then become trained in Explore?
When we were established in 2012, it was more of a collaboration than a transition. It was also before my time, so I cannot say that much about that experience. For Explore, Olink has been really supportive on all levels from conceptualization to implementation. The team responsible for implementation and training has been fantastic. As we have understood it, the SciLifeLab Explore Lab is the first core lab in Europe to be trained on Explore. Although the product has been on the market less than a year, we felt that there was a vast experience within Olink regarding the method and a strong will to transfer knowledge from the company over to us.
Were there any difficulties in the transition process? If so, how did your Olink representative help your lab overcome these difficulties?
Overall, the Explore installation has gone quite smoothly and happened surprisingly fast. In my opinion, a great deal of this is due to NGI's extensive expertise in automatization, LIMS, and NGS. There were some minor problems with one of the robots, but the Olink technicians were quick to help us solve this matter. The IT department at Olink has also been very helpful with providing scripts and support for tailoring the data processing from the sequencers. They even set up test environments so that we could prepare our LIMS and automated data processing systems for this new datatype. We also had to adjust the training slightly in lieu of the COVID19 pandemic. All training seminars were given online, while the hands-on wet lab work was split into smaller groups than intended, but by being flexible it worked out well for both parties.
Do you see a growing demand among your customers to do proteogenomics and/or proteomics projects?
The trend in life science is to move from analysis of single molecules to integrated multi-omics, with the goals to disentangle normal biological processes, identify molecular alterations in dysfunction and disease, and enable the development of novel diagnostic tests. This is a necessary leap to take for researchers and healthcare overall if they want to deliver on the promise of personalized medicine. I am aware that many of our Target 96 customers are members of the SCALLOP consortium, meaning that in addition to having Olink data, they also have genetic data from their cohorts, which is often provided by the SciLifeLab Genomics Platform. Since we now have the Explore Lab together, we hopefully can make it even easier for researchers to conduct such proteogenomic and multi-omics research.
How easy do you find the data analysis tools and overall workflow for the Olink products you provide?
We seldom have problems with the software for panels that utilize qPCR, and the Explore software also seems to work similarly so we doubt there will be many more difficulties with this software. However, we have not been using it for very long so time will tell!
What kinds of projects are being done using Olink technology in your lab?
All types of projects! Our users represent both European academic institutions and industries, and the projects range from small exploratory basic science research studies to large multi-center international clinical trials. We are now very excited to welcome the first Explore customers to the Scilifelab Explore Lab and to have our four trained operators produce some more fantastic data!
If you and your lab are considering becoming an Explore core lab, reach out to our support team: support@olink.com