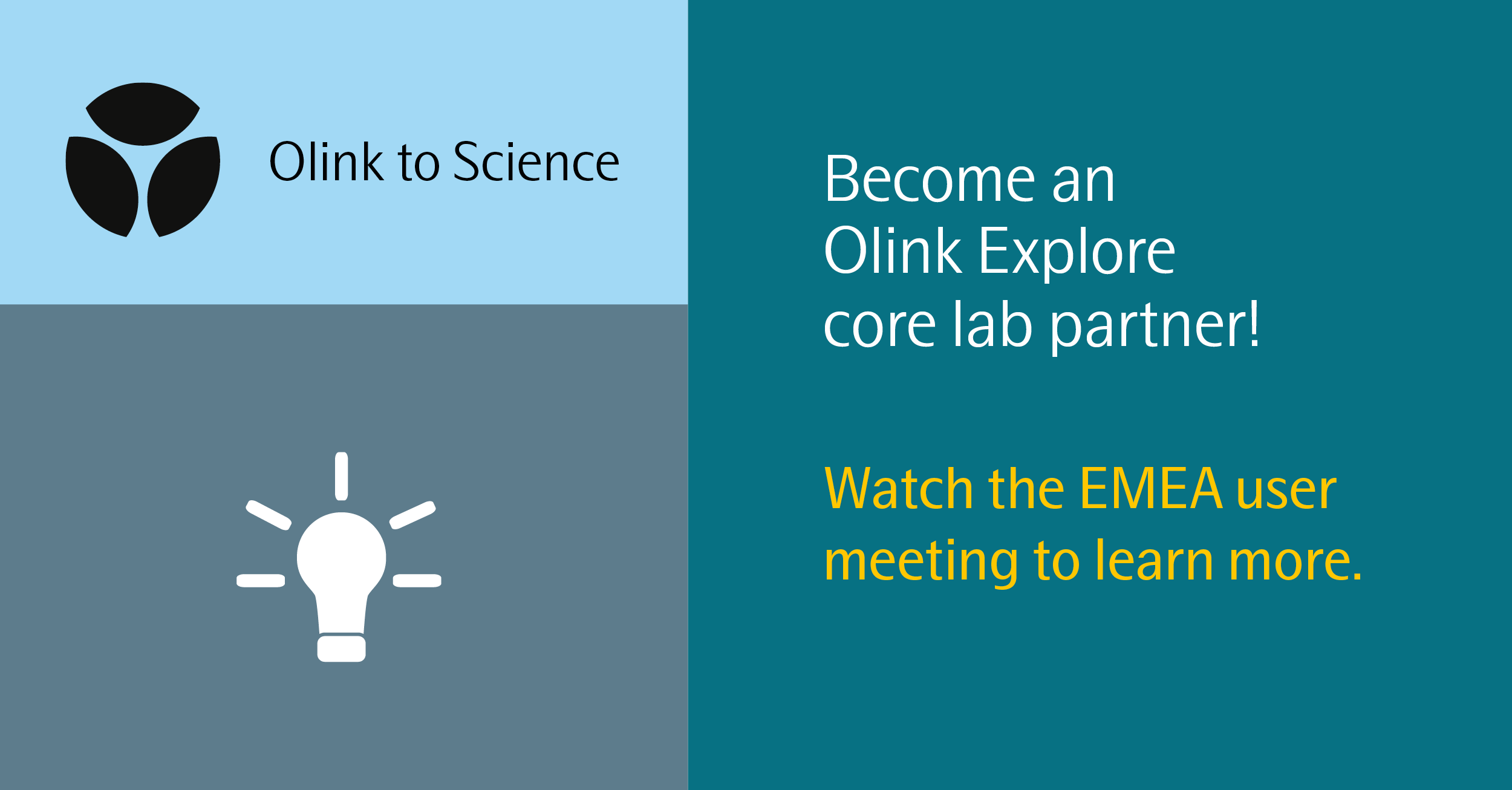 To round off our core lab partner series, here is a summary of the core lab EMEA (Europe, Middle East & Africa) user meeting event held at the end of April, which was attended by over 500 participants. The event focused on enabling high throughput proteomics using NGS, especially for users who are already well versed in using the Illumina NovaSeq 6000 and NextSeq sequencers and may have them already established in their labs.
The introduction to the event gives a great overview of who Olink is, what we do, and why our platform is primed to meet the challenges facing proteomics analyses. With Olink 1536, one can now simultaneously analyze almost 1500 different proteins without sacrificing sensitivity or specificity, at an unprecedented level of throughput – thanks to the pairing of our PEA technology with NGS. Your lab could also join us in making this technology accessible to researchers all over the world.
The first talk of the event detailed how proteomics and NGS come together to create Olink Explore 1536. Olink Explore 1536 panels may be run on a range of Illumina sequencing platforms. The marriage of the two technologies is exemplified by the Illumina NovSeq 6000, as it is flexible and can run from 1 single sample up to 1 million samples at once, making it ideal for very large-scale cohort studies (which Olink Explore 1536 is made for). Illumina connected Analytics allow the combination of our data with that of other omics to make for more cohesive, simpler, multiomics data analysis. The talk also gave an overview of Olink Explore 1536 with regards to our PEA technology, protein library, and Illumina sequencing. The talk also gave an overview on how to become an Olink Explore core lab partner, so if you would like more details of this process, watch this talk.
The next two talks gave real-life examples of Olink Explore 1536 being used in different research studies. Chris Whelan (video recording not available online) discussed how they are using Olink Explore 1536 in the UK Biobank Pharma Proteomics Project. The project involves the analysis of 56000 UK Biobank samples to achieve a future of population-scale proteomics, because, as we all know, proteomics is key to a better understanding of human biology, health, and disease. The second talk described the use of Olink Explore 1536 for investigating the tumor microenvironment of melanoma patients undergoing immune checkpoint blockade (ICB) therapy. By doing this, researchers hope that they may find protein biomarkers to predict a patient's response to therapy, as well as clarify which immunological characteristics separate responders to therapy from non-responders.
The last talk of the day explained the downstream data analysis using Olink Explore 1536 data. In essence, Olink Explore data is very similar to other expression data, such as RNAseq, and may be analyzed in a similar same way. The talk described the basic pipeline for the analysis of Olink Explore data, which may be very helpful for new Explore core labs to know, as well as the fact that the Olink Data Science (DS) team are always on hand to help with any data analysis. The variety of statistical tools developed by the DS team were also covered, and the talk demonstrated how to use one such app, the Olink® Insights Stat Analysis app. Finally, the talk briefly described how Olink proteomics data may be incorporated with other omics data. This talk is incredibly useful for users and core labs who are new to Olink data and its use with other omics.
In summary, the April EMEA user meeting gave a comprehensive summary of Olink Explore 1536 and internalizing the technology in your lab. All together the talks are less than 2 hours long, so if you are curious about becoming an Olink core lab partner, grab a coffee (or tea), and watch the talks linked below!
https://info.olink.com/emea-ugm-event_lpg-open_2021apr?utm_campaign=Science%20webinars&utm_source=hs_email&utm_medium=email&_hsenc=p2ANqtz-8t8-wwRuyKHxIERMlSPetMaG_G9DzAlZO3aKwU7Fo5FEoeeprPj6hS-bvXBNud9A60vCnZ