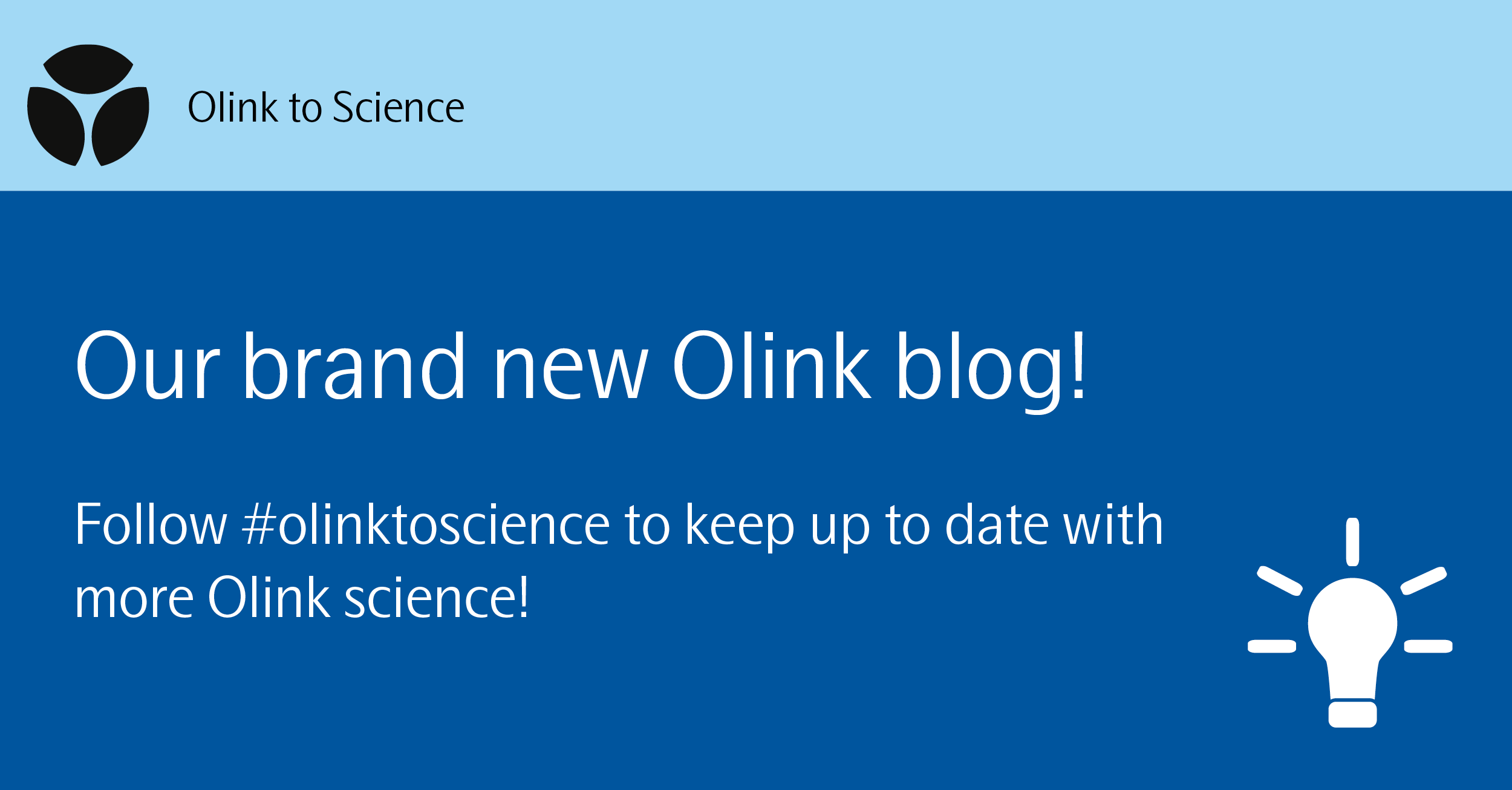 Welcome to the first post of the all-new weekly Olink to Science! Our customer survey revealed that you would like to know more about the many publications, research, and other science happening at Olink, therefore this blog aims to do just that: keep you informed on the exciting science taking place with our technology.
To begin the year ahead, we take a look back at the year that was. In 2020 Olink was used in research spanning well over 150 papers across many different research areas. Below is a summary of the number of papers published for each research category, as well as an example of what we consider to be a key paper (and worth a read!) published in 2020.
Key paper: Hoogeveen R, Belo Pereira J, Nurmohamed N, et al., Improved cardiovascular risk prediction using targeted plasma proteomics in primary prevention, European Heart Journal, DOI: 10.1093/eurheartj/ehaa648.
Cardiovascular/metabolic diseases - 5
Key paper: Pang Y, Kartsonaki C, Lv J, et al., Associations of Adiposity, Circulating Protein Biomarkers, and Risk of Major Vascular Diseases, JAMA Circulation, DOI: 10.1001/jamacardio.2020.6041.
Key paper: Rojahn T, Vorstandlechner V, Krausgruber T, et al., Single-cell transcriptomics combined with interstitial fluid proteomics defines cell-type-specific immune regulation in atopic dermatitis, Journal of Allergy and Clinical Immunology, DOI: 10.1016/j.jaci.2020.03.041.
Key paper: Salihovic S, Lind L, Larsson A and Lind P., Plasma perfluoroalkyls are associated with decreased levels of proteomic inflammatory markers in a cross-sectional study of an elderly population, Environment International, DOI: 10.1016/j.envint.2020.106099.
Hepatology - 4
Key paper: Sekyere S, Port K, Deterding K, Cornberg M and Wedemeyer H., Inflammatory patterns in plasma associate with hepatocellular carcinoma development in cured hepatitis C cirrhotic patients, United European Gastroenterology Journal, DOI: 0.1177/2050640620976991.
Immunological diseases/Immunology - 14
Key paper: van der Heijden E, Blokland S, Hillen M, et al., Leflunomide–hydroxychloroquine combination therapy in patients with primary Sjögren's syndrome (RepurpSS-I): a placebo-controlled, double-blinded, randomized clinical trial, The Lancet Rheumatology, DOI: 10.1016/S2665-9913(20)30057-6.
Immunotherapy - 6
Key paper: Babačić H, Lehtiö J, Pico de Coaña Y, Pernemalm M and Eriksson H., In-depth plasma proteomics reveals increase in circulating PD-1 during anti-PD-1 immunotherapy in patients with metastatic cutaneous melanoma, Journal for ImmunoTherapy of Cancer, DOI: 10.1136/jitc-2019-000204.
Infectious diseases - 27
Key paper: Arunachalam P, Wimmers F, Mok C, et al., Systems biological assessment of immunity to mild versus severe COVID-19 infection in humans, Science, DOI: 10.1126/science.abc6261.
Key paper: Kalla R, Adams A, Bergemalm D, et al., Serum proteomic profiling at diagnosis predicts clinical course, and need for intensification of treatment in inflammatory bowel disease, Journal of Crohn's and Colitis, DOI: 10.1093/ecco-jcc/jjaa230.
Metabolic diseases - 12
Key paper: Zanini J, Pietzner M & Langenberg C., Integrating Genetics and the Plasma Proteome to Predict the Risk of Type 2 Diabetes, Current Diabetes Reports, DOI: 10.1007/s11892-020-01340-w.
Nephrology - 4
Key paper: von Moos S, Segerer S, Davenport A, Sadoune M, Gerritsen K, Pottecher J, Ruschitzka F, Mebazaa A, Arrigo M and Cippà P., Vascular endothelial growth factor D is a biomarker of fluid overload in haemodialysis patients, Nephrology Dialysis Transplantation, DOI: 10.1093/ndt/gfz281.
Neurology - 16
Key paper: Huang J, Khademi M, Fugger L, et al., Inflammation-related plasma and CSF biomarkers for multiple sclerosis, PNAS, DOI: 10.1073/pnas.1912839117.
Obstetrics - 3
Key paper: Hedman A, Lundholm C, Andolf A, et al., Longitudinal plasma inflammatory proteome profiling during pregnancy in the Born into Life study, Scientific Reports, DOI: 10.1038/s41598-020-74722-5.
Oncology - 17
Key paper: Leandersson P, Åkersson A, Hedenfalk I, Malander S and Borgfeldt C., A multiplex biomarker assay improves the diagnostic performance of HE4 and CA125 in ovarian tumor patients, PLOS ONE, DOI: 10.1371/journal.pone.0240418.
Ophthalmology - 3
Key paper: Markasz L, Olsson K-W, Holmström G and Sindelar R., Cluster Analysis of Early Postnatal Biochemical Markers May Predict Development of Retinopathy of Prematurity, Translational Vision Science and Technology, DOI: 10.1167/tvst.9.13.14.
Other diseases & syndromes - 5
Key paper: Horati H, Janssens H, Margaroli C, Veltmana M, Stolarczyk M, Kilgoreb M, Chou G, Peng L, Tiddens H, Chandler J, Tirouvanziam R and Scholte B., Airway profile of bioactive lipids predicts early progression of lung disease in cystic fibrosis, Journal of Cystic Fibrosis, DOI: 10.1016/j.jcf.2020.01.010.
Key paper: Jónsdóttir B, Ziebell Severinsen M, von Wowern F, San Miguel C, Goetze J and Melander O., ST2 Predicts Mortality In Patients With Acute Hypercapnic Respiratory Failure Treated With Noninvasive Positive Pressure Ventilation, International Journal of Chronic Obstructional Pulmonary Disease, DOI: 10.2147/COPD.S211448.
Key paper: Raffield L, Dang H, Pratte K, et al., Comparison of Proteomic Assessment Methods in Multiple Cohort Studies, Proteomics, DOI: 10.1002/pmic.201900278.
Key paper: Suhre K, McCarthy M and Schwenk J., Genetics meets proteomics: perspectives for large population-based studies, Nature Reviews Genetics, DOI: 10.1038/s41576-020-0268-2.
This year is already starting strongly with a total of 5 papers published in the first few weeks of 2021. Expect to hear more about advances in multi-omics, oncology, and Olink technology, as well as the launch of new Olink products, to name but a few.
Having had an incredibly successful 2020, and with 2021 already off to a great start, there are no limits to what you and Olink can accomplish together. Follow #olinktoscience to keep up to date with more Olink science!